Control cabinets
The productivity of our assembly is up to 600 units of panel equipment per year. During the operation of the production produced more than 1500 boards, control racks.
Contact us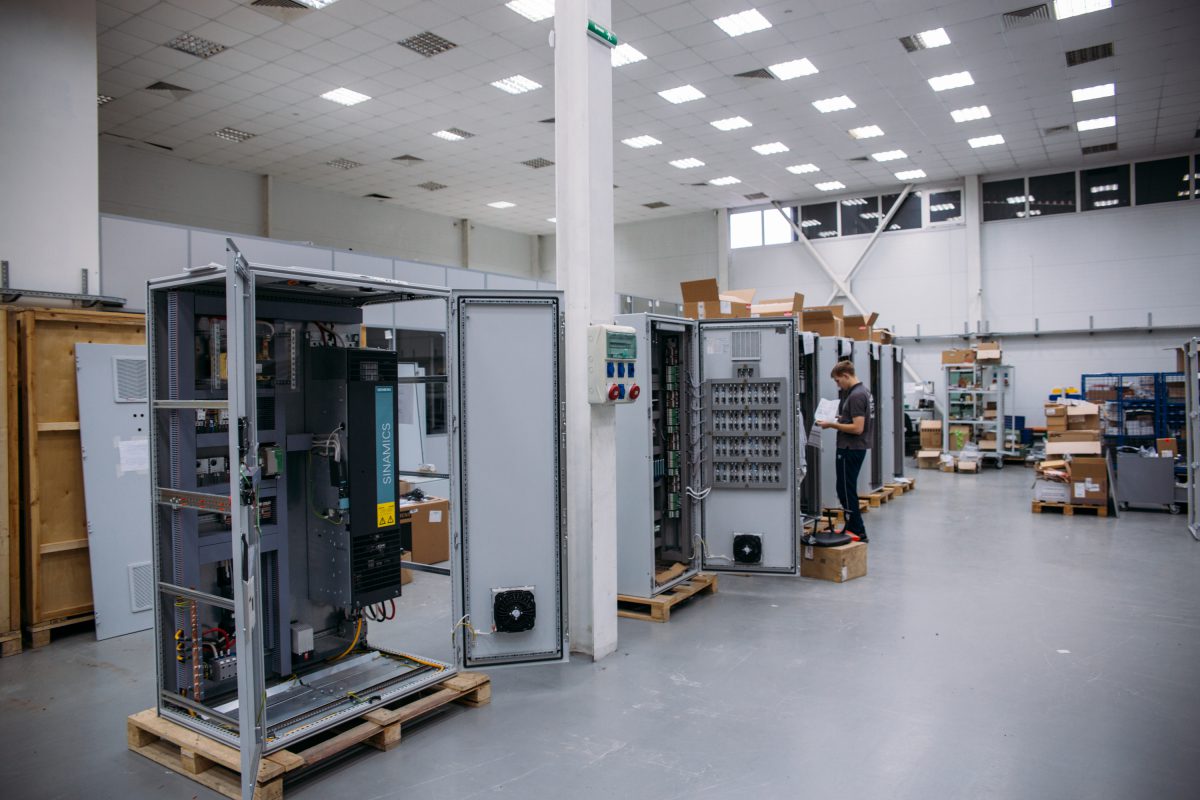 «GKS» RPE performs the following work of panel board products development and production:
development of design documentation for switchboard equipment;
development of technical documentation for the production of switchboard equipment;
assembly of panels, racks and switchboards;
field testing of panels, racks and operating consoles.
Our company offers services for the development and production of the following types of panel board products:boards, racks of automatic process control systems(PSC);
cabinets, racks of emergency shutdown systems (ESD);
interfaces with objects of automatic fire fighting systems and gas control (AFGMS);
Cabinets of remote control systems (RCM);
control panels of different configurations;
cabinets of automated power control systems (APCS), automated marketable power control systems (APCMS);
boards of information processing systems of hydrocarbons metering units (IPS);
distribution boards for currents up to 250 A;
We can fulfill work by tolling scheme — assembling panels of the equipment and materials of the customer, in accordance with the design documentation provided by them.
Our organization has the following resources for the production of panel board products:
manufacturing facilities of assembling and mounting in Kazan over 1000 m2;
staff of highly qualified personnel: designers, technologists, craftsmen of assembly line, fitters;
production planning at the level of world manufacturers of electrical products;
advanced production equipment from leading manufacturers;
Our main advantages:
Qualitative performance of contractual obligations on time;
Using the highest quality materials and equipment from leading international manufacturers of electrical products (Rittal, Phoenix Contact, Schneider electric, Pepperl fuchs etc.);
Individual approach to each customer;
The right to the customer to technical control provision at all stages of development and production, product testing;
Rapid changes in design, composition of panel products when changing the source data for the design;
Performance of our assembly shop is up to 300 units of panel equipment per year. Over the 4 years of production we have produced more than 700 boards and control stands;
The equipment manufactured by our company is in demand of the leading companies in the oil and gas sector in Russia, such as «Gazprom» OJSC, «NOVATEK» OJSC, «Rosneft» OJSC, «AK» Transneft » JSC,» NORTGAZ «CJSC, » AK «Transnefteprodukt» OJSC, «TANECO » OJSC, «Tatneft» OJSC and many others.
Our products are made in accordance with the applicable technical documentation for the product and the mandatory requirements of state standards in the relevant areas.