Oil quantity and quality measurement systems
Oil and petrochemicals quality parameters are determined by flow process instruments established as part of the quality measuring blocks.
Contact us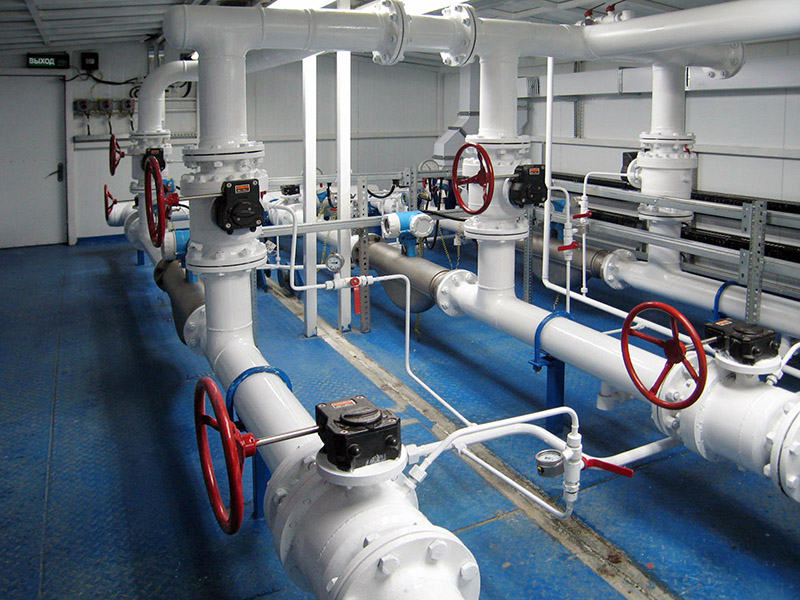 In general OQMS consists of technological part and a system for collecting and processing of information.
The basic structure of the technological part:
unit of measurement lines (MLU);
quality parameters measurement unit (QMU);
probe sampling device.
The technological part may also include:
filter unit;
verification unit;
pressure control unit;
flow control unit via VU;
connecting unit for the mobile VU;
technological and drainage pipes.
OQMS and the selected technological scheme provide the fulfillment of the following main functions:
measuring the of oil mass;
selection of the combined sample as per GOST 2517;
verification of the flow transducers at the operation site without interfering into the pipeline operation process;
and metrological characteristics of measuring instruments control.
Quality of oil and petrochemicals parameters is determined by means of in-line measurement of quality parameters to be established as part of the QOMB. At the same time the necessary calculations and the selection of technological equipment, means of measurement and materials are fulfilled at the stage of QOMS design documentation development basing on the Customer's specifications and the relevant normative regulations.
Technical characteristics of the selected equipment, as well as technical and metrological characteristics of measuring instruments shall provide accurate measurements at given technological modes of OQMS operation and characteristics of the work environment, namely:
measurement accuracy of sales oil or petroleum products mass in QOMS must generally comply with the requirements of GOST P 8.595;
measurement error of crude oil mass using QOMS shall be defined by regulatory documents on the measurement method developed for specific conditions and must comply with the requirements of GOST P 8.615.
The questionnaire on the oil metering system establishment
100 Kb
The Certificate of metrological attestation
171 Kb