Block-boxes
Block boxes are used for placing of process equipment, as well as for hardware and operator premises; they may be both single and multi section, followed by the aligning at the objects.
Contact us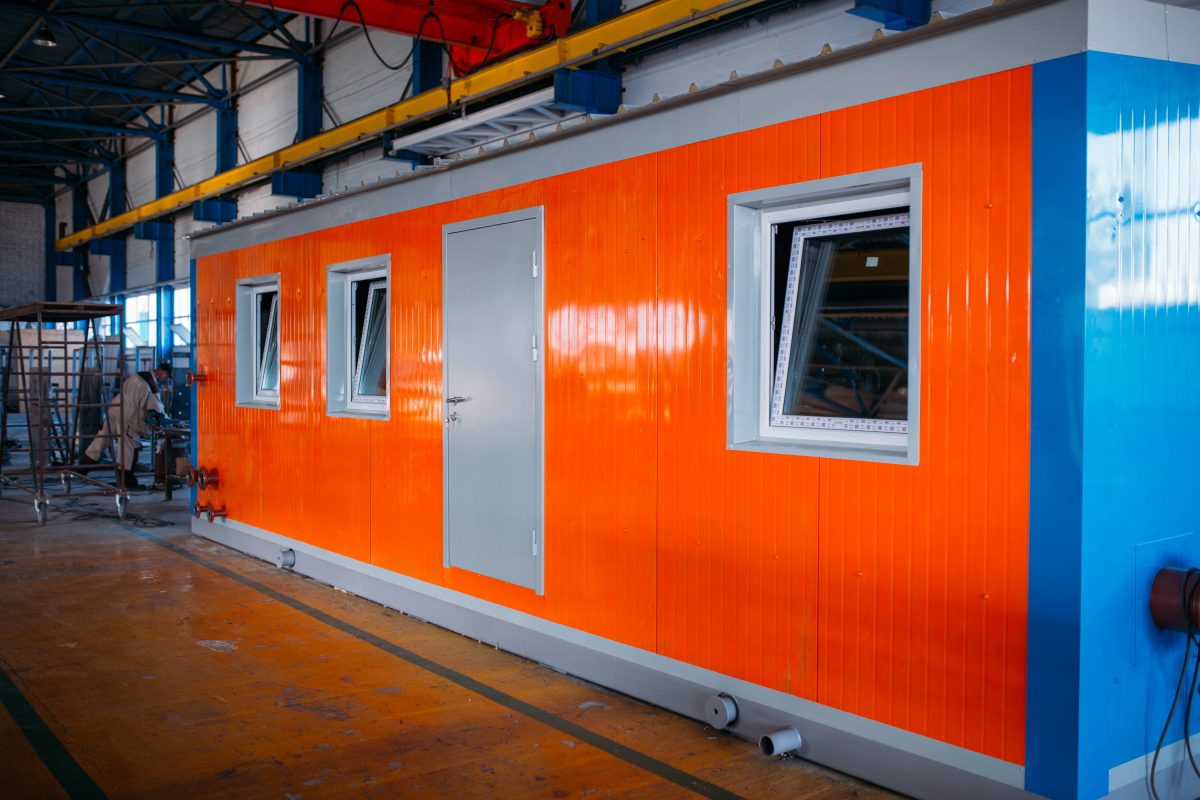 Dimensions of block- modular constructions depend on the customer's requirements, as well as on transportation rules by road and rail. At the bottom of the base there are elements for mounting on the carriage of the train or automobile platform, and at the top – the facilities for strapping during loading and unloading.
Manufactured block-boxes are delivered totally ready for use, and therefore, requiring the minimum time for installation, adjustment and commissioning. The design and the minimum requirements for the site allows for the fast relocation. Block- boxes correspond to climatic variant UHL1 of GOST 15150 and are operated at temperatures from minus 60 to plus 50°C, they provide protection and creation of special operating conditions for the process equipment in the difficult to reach and non-attended areas, in areas with harsh climatic conditions. Characteristic feature of the constructions is their high insulating properties with low weight.
Block boxes possess lighting systems, electric heating (automatic and manual control) and ventilation (natural and emergency). All the electrical equipment mounted inside the block-box of the processing equipment is explosion-proof, allowing its operation in hazardous areas of Class B-1a. Block boxes are equipped with an automatic fire detection, gas contamination control and warning system. Firefighting is fulfilled by using portable fire extinguishers.
On request of the Customer there can be installed foam generators and piping for connection to the fire fighting foam system, or to mobile fire fighting facilities. For protection against unauthorized access, the doors of the block-boxes are equipped with mortise locks and limit switches. On request of the Customer it is possible to install the volumetric sensor of alarm system and video cameras. The frame of the block-block is made of metal channel steel. The walls, roof and floor are made of «sandwich» panels filled with non-flammable material. Wall panels can be filled with basalt, foam polyurethane, and by various stuffing.
In accordance with SNiP 31-03-2001 requirements block-box provides easy detachable wall or window constructions. Different versions of thermal insulation level, interior decoration, layout (windows, doors and walls) and the composition of the placed equipment are performed in accordance with the customers' requirements and depending on the conditions in which the building is supposed to operate. Standard solutions are available for different purposes. Interior finishing of the block, painting and drawing of symbols on demand can be made in the corporate style of the customer. Block boxes have a certificate of conformity.